Have you ever read or heard the Italian expression "meglio tardi che mai"?
What does it mean?
It means "Better late than Never".
In the following exercise an example : It's better to receive a postcard (43 years later)  than never! Meglio tardi che mai!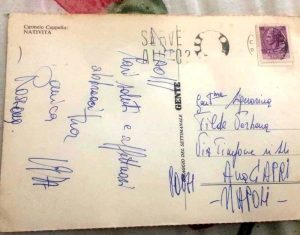 Leggi il testo e scegli le risposte esatte.
Read

this

text

and choose the correct answers.
hints/suggerimenti:
cartolina=postcard
lettera=mail
recapitare= to deliver
spedire= to send
francobollo= stamp
timbro postale= postamark
La cartolina di auguri dell'amica le arriva dopo 43 anni
Spedita nel 1974 a Roma, è arrivata a destinazione soltanto oggi.
Una cartolina o una lettera possono arrivare in ritardo, ma quanto successo oggi ad Anacapri è veramente singolare: presso un'abitazione  è stata recapitata una cartolina che era stata spedita addirittura nel 1974, ben 43 anni fa.
Si tratta – racconta Napoli Today – di auguri natalizi inviati da Roma. Il messaggio, spedito ad una ragazza da una sua amica che viveva nella Capitale, è questo: "Cari saluti e affettuosi abbracci, tua amica Rossana".
La cartolina è affrancata con un francobollo del tempo da 25 lire, ed il timbro postale riporta la data del 1974. Tilde, la destinataria, passato lo stupore ha chiamato subito la sua amica Rossana al telefono. Consigliandole, nell'ilarità della situazione, di usare WhatsApp la prossima volta.
testo adattato da http://www.napolitoday.it/cronaca/cartolina-amiche-43-anni-capri.html